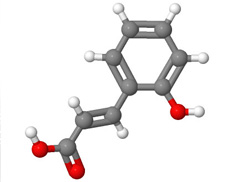 Hydroxycinnamic acid molecule
Some hydroxylated cinnamic derivatives display inhibitory capabilities of melanogenesis.
It was observed that pcoumaric acid from ginseng leaves inhibited tyrosinase on its monophenolase and diphenolase activities.
Ferulic acid exhibited a non-competitive inhibition for LDOPA oxidation by mushroom tyrosinase.
N-feruloyserotonin and N-(p-coumaryl)serotonin from safflower (Carthamus tinctorius L.) seeds were strongly inhibited the melanin production.
Methylation and hydroxylation of cinnamic acid derivatives may play an important role in tyrosinase inhibition.