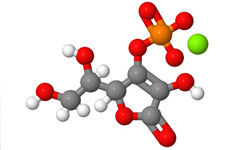 Magnesium ascorbyl phosphate molecule
The more stable ascorbate ester, magnesium-l-ascorbyl-2-phosphate (VC-PMG) is more lipophilic and has a greater permeation through the stratum corneum. VC-PMG is hydrolyzed by phosphatases in the skin to ascorbic acid and demonstrates the reducing capabilities of ascorbic acid.
Recently it was reported that VC-PMG is a stable derivative of ascorbic acid and a 10% cream of VC-PMG was shown to suppress melanin formation. A significant lightening effect was seen clinically in 19 of 34 patients with melasma and solar lentigos.
Furthermore, VC-PMG has been shown to have a protective effect against skin damage induced by UV-B irradiation. This protective effect stems from the conversion of VC-PMG to ascorbic acid (AS) and is effective in reducing skin hyperpigmentation in some patients. VC-PMG suppressed melanin formation by tyrosinase and melanoma cells.
In situ experiments demonstrated that VC-PMG cream was absorbed into the epidermis and that 1.6% remained 48 h after application. Its lightening effect was significant in 19 of 34 patients with chloasma or senile freckles and in 3 of 25 patients with normal skin. The protective effect of VC-PMG on cutaneous photodamage such as lipid peroxidation and inflammation induced by ultraviolet B (UVB) exposure (290–320 nm, max. 312 nm) was investigated using hairless mice. When VC-PMG was administered intraperitoneally to mice at a dose of 100 mg of ascorbic acid (AS) per kg body weight immediately before irradiation (15 kJ/m2), the expected increases in thiobarbituric acid reactive substance (TBARS) formation in skin and serum sialic acid, which are indices of lipid peroxidation and inflammatory reaction, respectively, were significantly reduced. However, the expected decrease in the level of cutaneous AS was unchanged.
Similar results were observed for animals given 100 mg of VC-PMG per kg body weight before UVB irradiation. When VC-PMG was administered intracutaneously immediately before irradiation, the expected UVB-induced increases in TBARS and sialic acid were again significantly prevented. Ascorbic acid- Na had less of a protective effect than intracutaneous VC-PMG administration. The cutaneous AS level was significantly higher in the VC-PMG-treated mice than in the controls, and the UVB-induced decrease in tissue AS was prevented by intracutaneous VC-PMG administration. These results suggest that VC-PMG protects against UVB irradiation-induced lipid peroxidation and inflammation in cutaneous tissue, regardless of the drug administration route.
In vitro studies showed that VC-PMG was converted to AS as it crossed the epidermis, but that AS-Na did not pass through the epidermis. Furthermore, VC-PMG was also converted to AS in serum. These results suggest that the protective effect
In related skin lightening studies, scientists have used ultrasound to increase the transepidermal penetration and efficacy of the vitamin C derivative, ascorbyl glucoside and niacinamide.