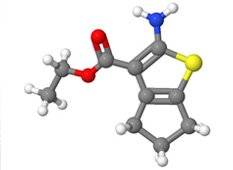 N-Acetyl-4-S-Cysteminylphenol moecule
Like Hydroquinone and Monobenzyl Ether of Hydroquinone, N-acetyl-4-S-cysteaminylphenol (NCAP) belongs to the phenol/catechols class. NCAP has been used in the treatment of epidermal hyperpigmentation such as melasma and also in anti-melanoma studies.
NCAP is structurally similar to tyrosine and acts specifically in melanin-synthesizing cells as an alternative tyrosinase substrate; It forms a melanin-like pigment when exposed to tyrosinase.
It has been suggested that NCAP may undergo oxidation by tyrosinase to form a reactive o-quinone that is capable of alkylating thiol groups of essential enzymes, which may interfere with cell growth and proliferation.
In a 12 patient study of the efficacy of NCAP the author describes an 8% complete loss and 66% marked improvement in visible changes of melanoderma after 2 to 4 weeks of topical application. The author attributes this depigmentation to a decrease in the number of functional melanocytes and the number of melanosomes transferred to keratinocytes. Furthermore, the author reported it to be more stable and less irritating than HQ, and it is specific to melanin-synthesizing cells.