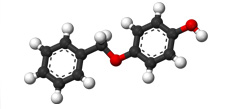 Monobenzyl ether of hydroquinone molecule
Similar to hydroquinone, Monobenzyl ether of hydroquinone (MBEH) MBEH belongs to the phenol/catechol class of chemical agents. It is metabolized within the cell to form a quinone species. Like HQ, it also is considered to be cytotoxic.
It has been suggested that the mechanism of depigmentation by MBEH involves selective cytotoxic melanocytic destruction through free radical formation and competitive inhibition of the tyrosinase enzyme system. It is theorised that it oxidizes selectively in melanocytes to an o-quinone that can alkylate thiol groups on important cellular enzymes, resulting in interference with cell growth and proliferation.
Unlike hydroquinone, MBEH can destroy melanocytes and almost always causes nearly irreversible depigmentation of the skin and should not be used to treat post-inflammatory hyperpigmentation or melasma. As such, MBEH is used only to eliminate residual areas of normally pigmented skin in patients with refractory and generalized vitiligo unresponsive to repigmentation therapy.
The phenomenon of repigmentation sometimes occurrs within a few weeks of discontinuing successful depigmentation therapy with monobenzyl ether of hydroquinone in patients with extensive vitiligo. Patients undertaking depigmentation therapy should be warned that this may occur, although the mechanism by which this occurs is unknown.