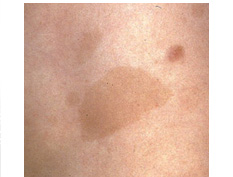 Cafe au lait macule on infant's torso
Cafe-au-Lait Macules or Cafe Au Lait Spots are hyperpigmented lesions located on the skin. The name Cafe-au-Lait is French for milky coffee and refers to their light brown color. They are also called "giraffe spots".
These larger areas are tan or brown macules (café-au-lait or coffee-with-cream color). They have irregular margins and may be from 0.2 to 20 cm in diameter. They are epidermal in origin, representing an increase in melanin in melanocytes and basal keratinocytes. They may be found on any body part, but often are located on the trunk. They usually are smaller in newborns, enlarge as children get older, and are less prominent in adults.
Ten to 30 percent of the population has an isolated café-au-lait macule. They may be present at birth or occur early in life. They have an association with a potentially serious genetic disease, neurofibromatosis.