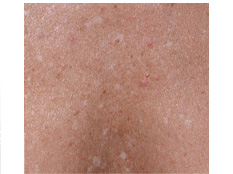 Guttate hypomelanosis on the chest
Idiopathic guttate hypomelanosis is an acquired leukoderma found in all races. As the name suggests it has an unknown etiology, but includes chronic sun exposure. It is very apparent in persons of color.
It consists of multiple, discrete, circumscribed, depigmented porcelain-white patches of about 5 mm diameter, in sun-exposed areas of the skin, especially on the extensor surfaces of arms and legs.
It can sometimes become generalized. Lesions occur on both sun-exposed as well as non-sun-exposed skin. Hairs within the lesions are not depigmented. The number of lesions increases with age, and the lesions more common in individuals over the age of 70 years. The patches do not increase much in size.
Usually no treatment is necessary or effective, but patients with pigmented skin will request treatment because of the psychological impact. No effective treatments are available, although published treatment options include intralesional corticosteroids, topical and oral PUVA, liquid nitrogen (cryotherapy), and skin grafts, all of which usually have unsuccessful results. Some authors report promising results with creams containing calcineurin inhibitors.