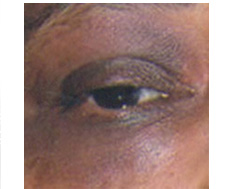 Familial racial periorbital hyperpigmentation on Indian skin
This is a relatively common condition in pigmented races particularly in South Asian (Indians, Pakistanis), Afro-Caribbeans, and African-Americans. It may be inherited in an autosomal-dominant manner.
Characterized by diffuse hyperpigmented patches in the periorbital area, this condition can give a raccoon-eye-like appearance, with patients complaining of dark circles around the eyes. However, the infraorbital area is more often affected.
This condition is often blamed in many cultures as due to fatigue, worry, or anxiety. Histologically, there is increased melanin in the basal cell layer of the epidermis and melanophages in the upper dermis.
Treatment with bleaching agents is usually ineffective. There are reports of successful lightening with Q-switched ruby laser and CO2 laser. These lasers should be used with caution in dark skin. Cosmetic coverup may be sufficient therapy for some patients.