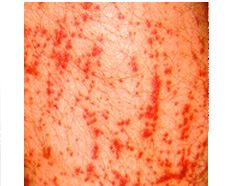 Leg affected with phytophotodermatitis
Phytophotodermatitis refers to a phototoxic reaction (dermatitis due to injury by sunlight) due to contact with a plant. It is induced by UVA radiation on a plant chemical called furocoumarins (psoralens).
The patient may present in spring or summer during the acute inflammatory stage, when there are linear blisters, or a few days to months later because of unsightly and bizarre pigmentation. The pigmentation is partly epidermal and partly dermal (melanosis).
Responsible plants include parsley, parsnips, celery, carrot, fig, lime and several species of wild flowers (umbelliferae).
Berloque dermatitis refers to bergapten (5-methoxypsoralens) phototoxicity. Bergapten is found in older fragrances (current regulations restrict the concentration of bergapten). The acute inflammatory dermatitis is sometimes unnoticed and the patient may present with streaky pigmentation on the neck. This is the same reaction as occurs after Porsalen Photo chemotherapy Ultraviolet A (PUVA).