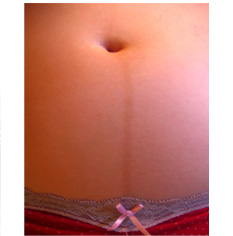 Linea nigra on a 22 weeks pregnant female
This phenomenon is observed during pregnancy. Normally, women appear to have a pale line on the abdomen that extends from the xyphoid process through the umbilicus to the symphysis pubis. It is called the linea alba. During pregnancy, this line darkens and is then called the linea nigra.
The exact mechanism for darkening is unclear and is attributed to the same hormonal mechanisms that likely contribute to melasma . The same darkening is also noticed around the nipples, areola, perineum, vulva, and inner thighs.
It is a benign and common condition that may be seen in up to 90% of pregnant women; however, the pigmentation is more intense in skin of color.
Gestational pigment darkening usually resolves within several months postpartum.