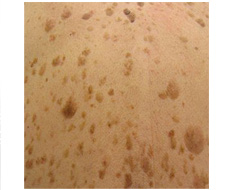 Typical seborrheic keratosis growths
Seborrheic keratoses (also known as "Seborrheic verruca," and "Senile wart) are non cancerous benign tan or brown growths usually found on the chest and back, as well as on the head.
They originate from cells called keratinocytes. They are round or oval, flat or slightly elevated, with size that can be more than 1 inch in diameter. As they develop, seborrheic keratoses take on a warty appearance and "pasted-on-the-skin" look, like warm candle wax because the edges are not attached to the skin. They can have irregular border with color from white to black that varied throughout the lesion. They are sometimes described by doctors as seborrheic warts. They can be difficult to ditinguish from melanoma.
Sometimes they tend to itch, especially in people of age.
They are more common in old people. Sometimes they are reffered to as "barnacles of old age"