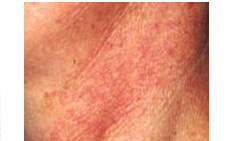 Poikiloderma of patient's neck
Poikiloderma of Civatte is a rather common, characteristic weathering change affecting the lateral neck bilaterally. The condition was first mentioned by Civatte in 1923.
The term poikiloderma refers to the combination reticulate or follicular erythema, telangiectasia, hyperpigmentation, hypopigmentation and atrophy.
Poikiloderma most commonly affects fair skinned, middle aged or elderley people, usually women.
A similar disorder arising on the face is sometimes called erythrosis pigmentosa faciei, and is known as acquired brachial cutaneous dyschromatosis (ABCD) when it affects the arms.